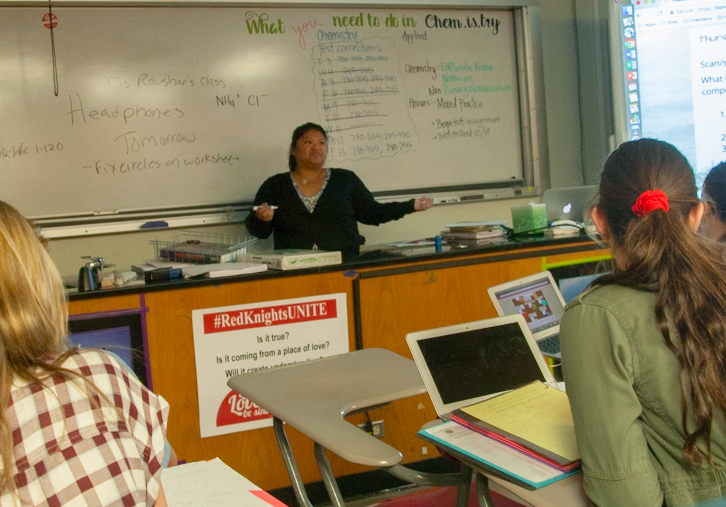 Muriel Ruppert
One of BSM's science teachers is adding a major change to her schedule this year. For the first time in her 16 years at BSM, Ms. Abbi Baker is teaching Honors Chemistry.
In the past, Baker was offered the opportunity to teach Honors Chemistry, but ended up teaching other courses. "The reason I never started doing Honors Chemistry was [because] when we split the chemistry's to three different levels, I took on the Applied Chemistry and Mr. Lex started teaching accelerated at the time. By the time we needed an extra accelerated/honors teacher, Ms. Roushar started teaching the accelerated/honors sections," Baker said.
Baker is teaching Honors Chemistry this year to prepare her for teaching AP Chemistry next year. Honors is serving as a transitional step between normal Chemistry and AP Chemistry for her as a teacher.  "Last year we got together and started looking at curriculum in preparation for AP [Chemistry] next year. Right now, I'm actually set to set up that curriculum, so Honors was a good way to see the extra information," Baker said.
An important distinction between normal Chemistry and Honors Chemistry are the mathematical prerequisites required for success. Generally students need a stronger math background going into Honors Chemistry, whereas for normal Chemistry, it's acceptable to not be as far along. "There's that expectation coming in that you already know a lot of the basics like dimensional analysis. It would be assumed that you know that. Measurements, conversions and things like that, I don't spend any time on that stuff. A lot of it really is math based that the expectations are there for," Baker said.
One of the exciting factors in teaching Honors Chemistry for Baker is that she gets to talk to and teach students who are genuinely interested in Chemistry. "I know for a fact that there's at least one student that's really interested in chemistry, and I get to talk about [it with] that student," Baker said.