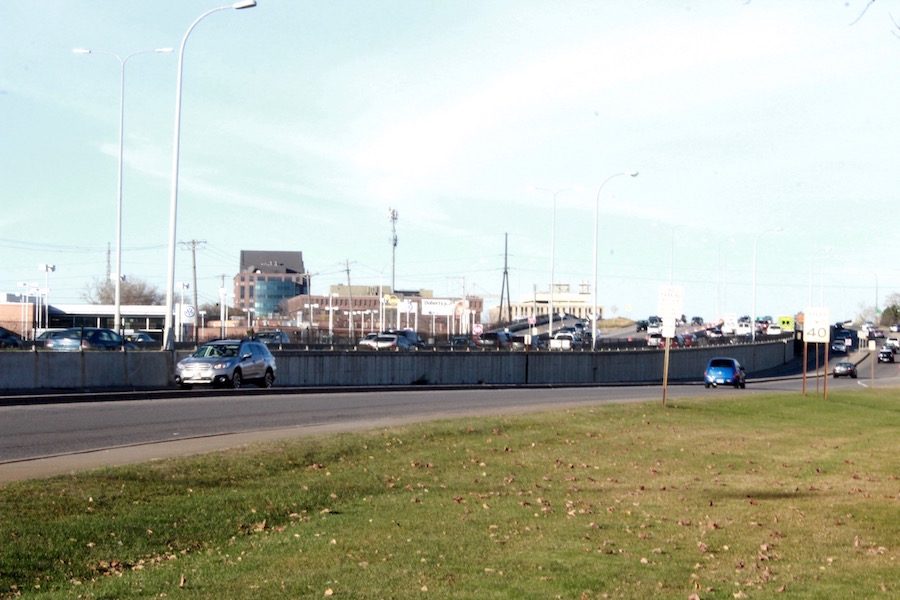 Ginny Lyons
For the past few years, Highway 100 has been plagued with construction issues causing major traffic and safety problems. Students who have to use this highway often had trouble getting to school. However, within the next few months, construction on Highway 100 is expected to be completely nished. This will allow for less traffic, and hopefully a safer and quicker drive for parents and students.
Construction on Highway 100 began in August of 2014, just over two years ago. At that time, Highway 100 lacked adequate merge lanes coming from Highway 7. "If you tried to get onto Highway 100 going south from Highway 7, you were dumped right out into oncoming traffic with no lane to merge onto, and now there's a lane," senior high principal Dr. Susan Skinner said.
During the construction, Highway 100 would often cause major congestion right near the entrance to BSM. With construction in that area completed, most of the backup on that entrance has been eliminated. "The congestion we felt at school, which was really tough, is gone, so that's nice," Skinner said.
With construction nearing completion, many students have noticed a change in the amount time it takes to get to school. "[My drive] takes anywhere from 20 minutes to an hour, depending on when I leave. I'm happy that they are finally done, and it's shortened my drive by at least 20 minutes a day," senior Stephanie Roberts said.
Another benefit to the construction being completed is that it will help reduce some risk during winter driving season. "I think it will make an impact because the lanes are a lot bigger, and there is more room. Also, the on and off ramps are better, and they will allow for more time to merge," Skinner said.
Although the end of construction will reduce some risk, students must stay alert whenever they are driving to or from the school. "On any given day, when you think about winter driving it's just about paying attention, not being distracted, and slowing down," Skinner said.
During the winter driving season, students must pay attention to their speed, particularly during rough weather conditions. "The posted speed limit is meant for excellent conditions. As soon as the conditions change, that speed limit doesn't apply anymore. [Students] must go slower," Skinner said.
In addition to Highway 100's completion, other road construction is in the works. Currently, there are talks to now start construction on Highway 169. "Now, Highway 169, is next, and so they are going to close that road, which could add some tra c. I think that could possibly take a couple of years," Skinner said.
Also, there are currently discussions about installing new sidewalks that will run in front of the BSM campus. In St. Louis Park, there is a current initiative called Connect the Park. For this initiative, the goal is to develop sidewalks, trails, bike lanes, and bikeways throughout the community of St. Louis Park. "What they want to do is put sidewalks in on both sides of Barry Street. One would wrap around in front of the Synagogue, and the other would come around and go to the sidewalk in front of the school that leads to the walking bridge," Skinner said.