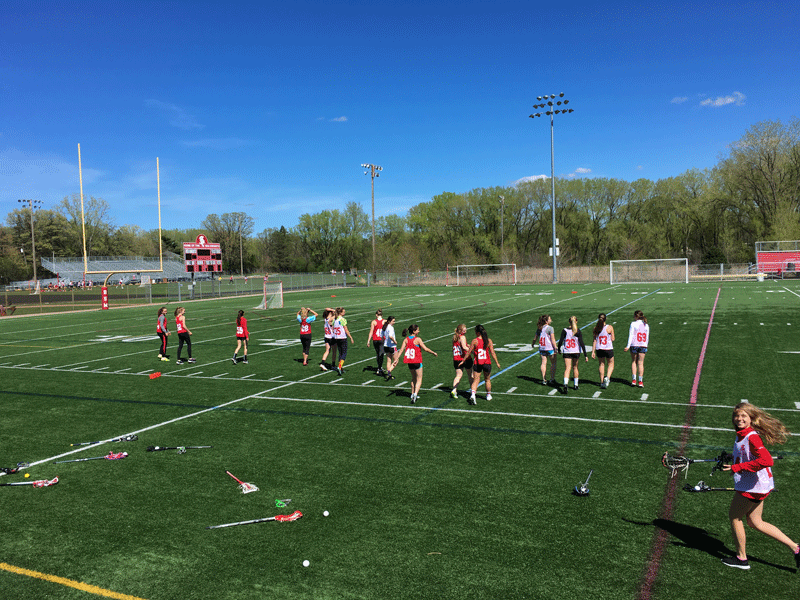 Ruby Strommen
As BSM spring sports' seasons near their end, the girls' lacrosse team is now beginning to find their stride.   The team has a lot of new players on the team this year, some of whom have never played varsity, or ever touched a lacrosse stick. Knowing it would be a rough start to the season, the girls' took the first games seriously, but they knew they were not going to be playing to their full potential yet. "The season started off very slow and rough as usual, mainly because we had a lot of new players who are athletic but didn't know the sport of lacrosse. Girls' lacrosse is different than most sports because you can make the team if you are athletic and fast even if you don't have the stick skills, so it just takes time for the new people to learn how to play," senior captain Aleksa Tataryn said.
After starting off 1-5, the team really got back on their feet with a win over Bloomington Kennedy, and are competing with every team who steps on the field. They have been 4-1 in their past games, losing a close game to the highly ranked Blake Bears. Last Thursday, however, they were able to clinch the conference championship with a 13-6 win over the cross-town rivals of St. Louis Park.
Last season, they lost a few key players who are now playing at the college club level, but this did not stop the team from finding new younger players to step up instead. Juniors Anna Bergsland and Ellie Bahr have made an impact at their respective positions this season. "Anna Bergsland is really good at doing the draw. She is really good at lacrosse in general and a very funny person to be around on the team," sophomore Maddie Stoks said.
Along with Bergland, Ellie Bahr is the team's leading goal scorer and has helped the team through a lot of close, tough wins. "I think Ellie Bahr has made an impact this year; she has scored a lot of goals for us and we needed someone to step up scoring goals since we lost Sydney Liebl and Allie Coughlin last year," Tataryn said.
Being the conference champions and having this upswing in wins should help the team finish strong before the end of the season. Hopefully, this will allow them to carry some momentum as they head into a tough Section 5 Playoffs with teams like Breck and Blake. This could be the year that the team finally beats Blake to advance forward to the state tournament. "I think that this year we have a good chance of beating them and really hope that we make it to state," Tataryn said.