Two students use Dear Neighbor Grant to serve their community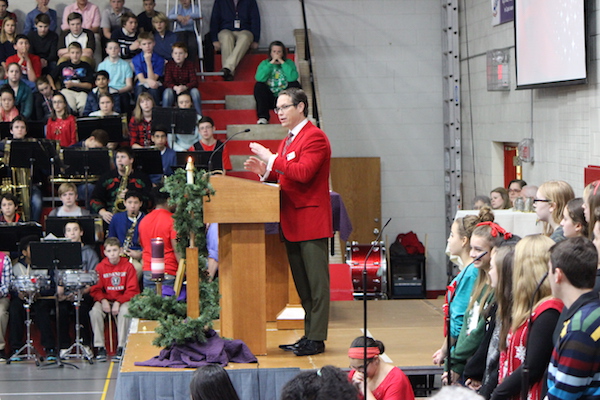 BSM senior Lucian Parece received the second Dear Neighbor Grant for his work with Perspectives, a non-profit organization located in St. Louis Park focused on helping the children of women who are struggling with substance abuse. This grant is donated anonymously and given to a student who uses their interests to solve issues in the world.
Parece started volunteering through Perspectives as a service requirement through his junior year Discipleship in Society class. He loved it so much that he continued volunteering after the class ended. Parece worked in the kitchen with kids, where he would assist them cooking dinner. "I worked with a guy named Chef Dan, and he has worked there since the beginning of the program. He is an awesome guy, so I would go on the same day every week, and I got to know some kids really well," Parece said.
After finding passion in the program, Parece started to notice a clear difference in the way that he lived and the kids lived.  "What I'm doing is special because at BSM, we have a lot of opportunities for activities and don't have to worry about what to do after school, but a lot of teens don't have those opportunities or the extra money," Parece said.
"
The grant has given me a lot of hope to kickstart the program.
— Senior Lucian Parece
Noticing the huge gap between himself and the people he served, Parece decided he wanted to do something to help give these kids more opportunities. "My plan is to reach out to different businesses in the area like the St. Louis Park Rec Center, bowling alleys, the Minnesota Twins, and the Timberwolves and ask them to give us free activities. I want to run activities for teens to get involved," Parece said.
The Dear Neighbor Grant will open many doors for Lucian's idea, and he hopes this will start to make permanent changes in the program. "I think [the grant] will help a lot, because before I received the money, I was worried that the program wouldn't go anywhere, because I wouldn't be able to get anything for free. The grant has given me a lot of hope to kickstart the program, and then maybe they can get more money every year to help," Parece said.
Last year, Peri Warren received the first Dear Neighbor Grant for her program focused on delivering organic produce to food deserts in the Twin Cities. Juniors Mark Racchini and Mckenzie Dunleavy got involved in the program after hearing Warren speak at mass last year: "Mckenzie and I heard Peri talking at mass about the program when she got the [Dear Neighbor] award, and she asked if anyone was interested in helping, and we decided that we should help out," Racchini said.  
Warren decided last year that she wanted to open a grocery store in North Minneapolis focused on supplying lower income families with healthy food. Using the $1,000 grant and money she saved enabled the program to take off. This past summer, Warren worked with Dunleavy and Racchini to decide how to start it up, "This summer was an experimental period. Peri wanted to try different ideas, like one week we decided to order food the produce and deliver it to people. Another weekend we set up more of a store at [Warren's] church and had people walk through and pick out what they wanted out of a set stock," Racchini said.
Both ideas were successful, but for now the program has been halted because Warren is a college freshman. "We just had a meeting where we finalized everything for this summer. We decided to do the delivery service, which works the best because it gives people a unique opportunity to get fresh produce, and people in impoverished areas don't always have transportation," Racchini said.
Leave a Comment