Alma Godinez participates in an Aztec-style dance group
A combination of colorful costumes and traditional music, Danza Azteca is a significant part of Aztec culture; junior Alma Godinez has danced Mexica Yolotl for the past year.
Junior Alma Godinez started dancing a year ago with a group called Mexica Yolotl. The group dances in the traditional Aztec style of danzas, which express the culture and artistic style of ancient Mexico.
Godinez first enjoyed watching this style of dancing when the Aztec group would perform for celebrations and an Aztec group hosted by her church. She then decided she wanted to try the dance herself."I was always fascinated by the movement and attire of the dancers. I always wanted to be one of them," Godinez said.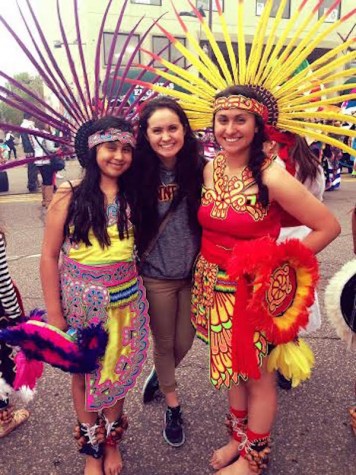 When performing, dancers wear colorful, ornate, one-of-a-kind costumes that consist of many pieces. The more elaborate the costume, the more experienced the "compadre" or "comadre." The dancers wear a "kopilli," or a headdress with feathers. "The feathers represent experience and knowledge. Everyone has different symbols or images on their costumes, which usually have something to do with nature," Godinez said. Around their ankles they wear "ayoyotes," which are used as instruments and help the dancers mark their steps. "We also carry a shield or 'chimalli' on our left hand which was used in time of war. On our right hand we carry a 'ayacachtli,' which is also used as an instrument," Godinez said.
All of their hard work pays off when the dancers perform. "[The performances] are always full of excitement as we all help each other with our face painting and other little details," Godinez said.The dance group, Mexica Yolotl, has given Godinez many opportunities to travel both nationally and internationally for performances. "We have gone to Chicago, California, New York, and Mexico. We mostly perform in ceremonies with other groups, churches, festivals, carnivals, parks and even in private events," Godinez said.
With all of these travels, Godinez has encountered some memorable experiences and made long-lasting memories. "I think my favorite memory was during Mexico's Independence Day parade [when] we were told not to take pictures with people while we were still dancing, but we did it anyways and got in trouble," Godinez said.
Being a part of Mexica Yolotl has taught Alma Godinez many things about Mexican traditions and has left her with some great experiences that make her want to continue with this form of dance."I have learned so much more about my culture and the reasons behind our traditions. I would love to continue dancing beyond high school," Godinez said.
Leave a Comment