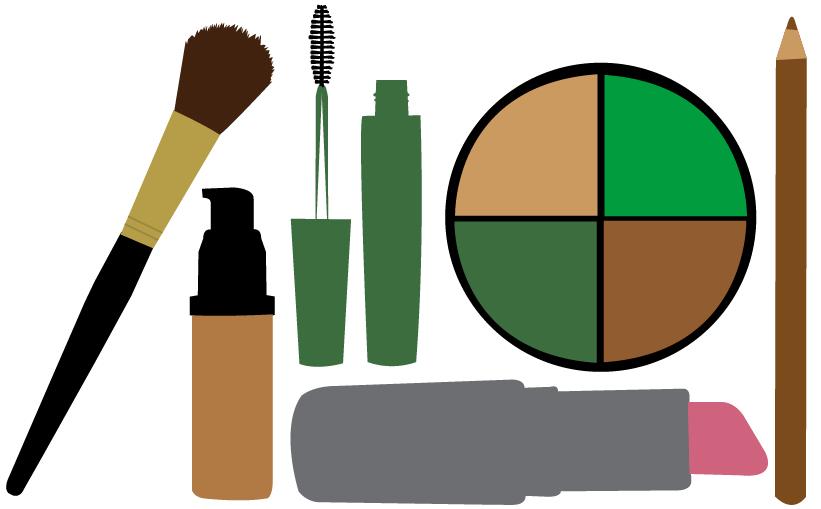 design by Anna von Kampen
1. Ecco Bella ($30-60)
Ecco Bella, an Italian company name that translates to "Behold Beautiful," is one of the top notch beauty suppliers in the US. Although they are widely known for their anti-blemish and vitamin-enriched skin care products, they also produce organic beauty collections for lips, eyes, and face. One of their more popular organic products is their line of "FlowerColor Make Up." The very same wax coating that protects flower petals from the sun and harsh weather environments is used in this line to keep natural moisture in your skin so you look fresher, longer.
2. 100% Pure ($25-40)
Safe, natural, and completely organic face makeup is what you'll find in the 100 Percent Pure makeup line. Not only do these natural and organic products provide illuminating facial coverage, but they are packed with nutrient-rich components. Keep an eye out for 100 Percent Pure's face makeup collection for pore-friendly foundations, fruit pigmented tinted moisturizers and concealers that'll last on your skin all day. These products subtly bring out the beauty in all of your imperfections without feeling or appearing heavy. As an incredibly non-irritating makeup that looks great on all skin types, 100 Percent Pure makeup is the organic choice for all types of beauty.  
3. Alima Pure ($15-30)
Kate O'Brien, founder of Alima Pure makeup, was inspired to make her own all-natural makeup brand when her teenage daughter started using makeup that contained toxins and chemicals that irritated her skin. Alima Pure makeup gives a flawless look without parabens, sulfates, synthetic dyes or so many other unnatural ingredients. The philosophy behind Alima Pure is rooted in a "less is more" mentality. The brand offers a wide range of foundations, soft blushes, eye popping shadow tints, and natural looking lip sticks that will perfect your fashionista look.
4. Afterglow Cosmetics ($15-30)
Afterglow cosmetics takes a little bit of a different approach when it comes to producing a natural makeup that's healthy for your skin. All of the products they make are gluten-free in order to provide makeup for individuals that cannot consume gluten, such as those enduring Celiac Disease. In addition to gluten-free production, Afterglow Cosmetics are free of bismuth oxychloride,a chemical found in most other mineral makeup brands that is potentially irritating to skin. With so many organically infused products to offer, Afterglow Cosmetics is one of the top all natural makeup brands.
5. Physicians Formula – (under $15)
Physicians Formula promises nothing but "non-toxic glamor" in their all-natural beauty products. With a 70% organically based makeup, there's no doubt that Physicians Formula is made without harsh chemicals or synthetic parabens. They offer a wide variety of powders, foundations and eye shadows that are formulated to make you look fresh and beautiful without weighing you down. Unlike other makeup brands, Physicians Formula offers an all natural mascara that coats lashes without drying them out or causing breakage. Using organic orange water, the 100% natural mascara hydrates lashes while offering a flawless clump-free look.
6. RMS Beauty – ($25-40)
Launched by Rose-Marie Swift, RMS Beauty is a favorite of fashion editors and some of the world's most famous models. All of RMS Beauty's products are so dependably contrived with organic ingredients that some of the critics even say it's good enough to eat. During the manufacturing process, minimal heat is used so that the raw ingredients are as beneficial for your skin as possible. Their popular metallic cream shadows are pigmented to hydrate the your eyelids with beeswax, cocoa seed butter and even coconut oil. RMS Beauty's widely popular, organic based cosmetic products have sold all around the globe.