Millennials struggle to articulate their passions
I am a teenager and a millennial. I can be lazy, I procrastinate in almost every activity, and I can at times appear to be very apathetic.  In short, I do all of the cliché things most high school students and millennials are accused of doing. Unlike most teenagers, however, I recently had the opportunity to do something special that led me to think about about being a millennial and what it means for me. This special event came when I was able to meet my role model––and no, I do not mean Taylor Swift––I am talking about Mary Beth Tinker, a world-renowned students' rights activist.
This whole journey started last spring. As a writer for my school newspaper, I witnessed backlash from several articles that were published. During the repercussions that followed, I was surprised to see the gridlock between the editorial staff and members of my school community. I began to hear comments like "you have no right to publish an article like that" and "you can't stop me from saying whatever I want; it's my right." It was the first time I had an experience with issues surrounding freedom of press. As I talked with the student editors about the confusion that was beginning to swirl in my head, they told me about a First Amendment rights activist named Mary Beth Tinker and as an aspiring journalist, I decided to research this Tinker. Two hours and many of her YouTube videos later, I realized that Mary Beth Tinker is a huge deal. I immediately became obsessed with her story and knew that I wanted to meet her.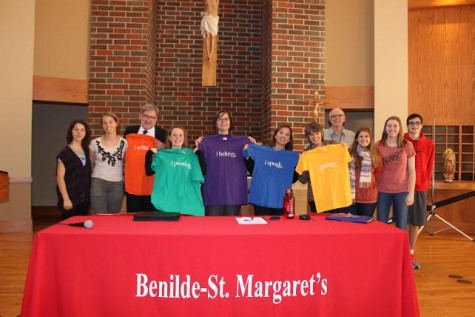 As a 13-year old growing up in Des Moines, Iowa, Tinker and several other students decided to wear black armbands to school to mourn the deceased on both sides of the Vietnam War. The Des Moines School Board attempted to block the students from wearing the political armbands. Even though she removed her armband when asked, Tinker was suspended from school. Her family then sued the Des Moines School Board and the case eventually went to the Supreme Court, which ruled in a 1969 landmark decision that students in schools do have First Amendment rights. Since that time, Tinker has remained passionate about issues surrounding freedom of speech.
Since this fall marks the 50th anniversary of the date Tinker courageously began her fight, I wanted to bring her to our school. Besides being a prominent woman who changed the course of history for students, I also thought she could help our journalism team. I felt it would be beneficial to know what we as student journalists are allowed to publish and how we should combat community backlash.
After six months of planning, my dream of having Tinker visit our school became a reality. Tinker spent all day with us, speaking to government and journalism classes. She also led an open panel discussion where three local experts, attorney Jennifer Larimore, KARE 11 executive producer Steve Eckert, and our school principal Dr. Susan Skinner discussed how their work has been impacted by Tinker's story.
"
This made me realize something: not all teenagers are able to articulate their passions."
— Josie Ross
At the end of each of her presentations throughout the day, Tinker would approach students individually and ask  "What are you passionate about?" A number of students were ready to reply to this question, answering with women's rights or the diminishing of racial discrimination. Other students, however, did not have a ready response. This made me realize something: not all teenagers are able to articulate their passions.
This realization fits with the stereotype of my generation. Millennials are characterized as lazy, self-centered, and mostly, unimpassionate. Recently, Saturday Night Live aired a skit showing millennials entering the workforce, more interested in social media posts than working. While watching Tinker interact throughout her visit, I realized how important an issue this is. To combat the negative stereotype that has been assigned to my generation, there is some advice I would offer to both teens and adults.
To adults, we need you to help us seemingly unimpassioned teenagers. Most young adults were born into great privilege, meaning we have not yet had to work for what we think is right. Throughout her visit, Tinker said, "we need the energy and enthusiasm of youth to solve the problems that face our world."  
In order to solve these really tough problems, we need the help of the adults in our lives. I wondered what would happen if more adults pushed and listened to teenagers the way Mary Beth Tinker did while she was at our school.  We need you adults to ask us about our passions, to push us to clearly articulate what matters to us, and to support us as our passions become dreams and in turn actions. As an example, I had someone push my beliefs with every decision I made as I became clear on the passion I had about helping students understand what it meant to have free speech rights. This adult was my faculty sponsor, the chair of our English department. I asked him to help me make my dream of Tinker coming to our school a reality. Although completely supportive, he pushed every opinion and forced me to clarify my passion.
Unfortunately, not every student has the same kind of supportive advisor at their disposal. Maybe this means that all adults could make a change in the way they interact with millennials. If you are an adult who already pushes millennials, thank you.  If not, consider my challenge to mentor us, challenge us, and inspire us by sharing your own passions. Whether your support is big or small, take some kind of action and give us a chance.
"
As teens, we are the people who need to grow out of the negative stereotypes assigned to millennials. "
— Josie Ross
My day with Tinker also led me to some advice for myself and my fellow teens. I realized adults are not the sole reason for the stereotype of our generation.  As teens, we are the people who need to grow out of the negative stereotypes assigned to millennials. If we do have passions, we need to speak about them and act upon them. Perhaps the issue we face is fear or we do not see ourselves as capable of being courageous. Throughout the day I spent with Mary Beth Tinker, I had to remind myself that the accomplished 60-year-old woman who was speaking at my school was not the one who acted bravely.  It was a 13-year-old girl in Des Moines who decided to act and make a difference. Like Tinker, we, as teenagers, need to stand up for what we know is right. Tinker was courageous and her passions changed students for the rest of history. If our passions aren't shared, our opinions will never be known.
Although I had my dream of meeting one of my role models come true, the more important goal I want to meet is dispelling the stigma surrounding millennials. This stigma won't vanish until millennials and adults join to find and start fixing the world's problems. Without this teamwork, the world will be left in the hands of unimpassioned teenagers who just need a little help.