Sherlock Holmes Exhibit takes visitors through murder mystery
The new "Sherlock Holmes and the Clocktower Mystery" exhibit at the Science Museum transports visitors to Victorian London as they attempt to solve a murder mystery joined by the most famous detective in the world. Visitors use their powers of observation and deductive reasoning while investigating elaborate crime scenes to figure out "whodunit."
From now until January 3, 2016, The Science Museum of Minnesota in St. Paul is hosting a Sherlock Holmes exhibit titled: "Sherlock Holmes and the Clocktower Mystery." The exhibit presents visitors with a murder mystery to solve, just as iconic London-based detective Sherlock Holmes would have in the 1800s.
Though The Clocktower Mystery is not actually a story written by Arthur Conan Doyle, the exhibit is based upon his stories of Sherlock Holmes. However, it does take some plot points from other novels to make the story appear more authentic.
At the beginning of the exhibit, visitors receive a clue sheet, a pencil, and a set of simple instructions: solve the mystery by finding clues located within each of the eight scenes. "Alright," I thought to myself, "This shouldn't be too hard. I've watched Scooby Doo plenty of times; I've got this." However, I soon discovered that the mystery was much more complex than I had thought. With multiple suspects, twists, and red herrings, the task of solving the mystery became quite difficult.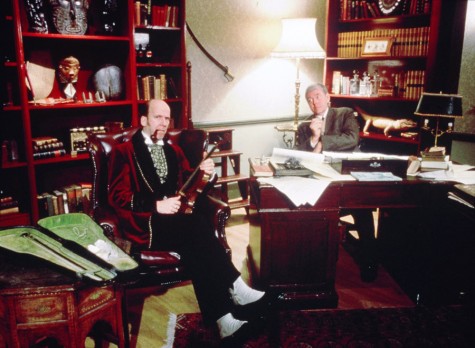 Each scene has its own explorable environment with different clues located inside, as well as a voiceover of Dr. Watson interviewing people in the rooms about the mystery. Each of the rooms has multiple clues hidden inside, some easy to find, but some of them quite difficult.
Stepping onto each set definitely feels like stepping back into 1800s London. Overall, the sets look quite impressive, adorned with small details. However, one chapter attempts to show a magician escaping a tank of water, and it is clearly just a paper mache man. Not only does it look extremely fake, but it was also quite creepy. Thankfully, the rest of the sets are well done.
Luckily, even if visitors miss clues (which will probably happen) there are cheat books outside of each room that give all of the clues from that section. However, any true detective, like myself, doesn't need to rely on these childish cheat books; after all, I had this mystery in the bag. Or so I thought.
"
Alright," I thought to myself, "This shouldn't be too hard. I've watched Scooby Doo plenty of times; I've got this.
— Henry Bird
Once I got through all of the chapters, I confronted a door that read: "Professional Consultation here." Finally, the answer to the mystery would be revealed. I was confident I had the right answer and had solved the mystery.
I was wrong. Not only was I wrong, I was so wrong that I was confused about where I even got my answer from. Obviously, there were a lot of clues that I had missed, and the mystery was a lot harder than I thought it would be.
Considering that it is an exhibit for all ages, I didn't feel too bad about not being able to solve the mystery. In addition, the story was so engaging and immersive that it made for an overall enjoyable experience, even though I didn't figure out "whodunit." Sharpening my sense of observation and deductive reasoning skills will make me a better detective in the future.
Leave a Comment