Students spend summer studying internationally
While most students used their summers to recover from nine months of school work, some spent the vacation learning about different fields of science and different cultures all over the world.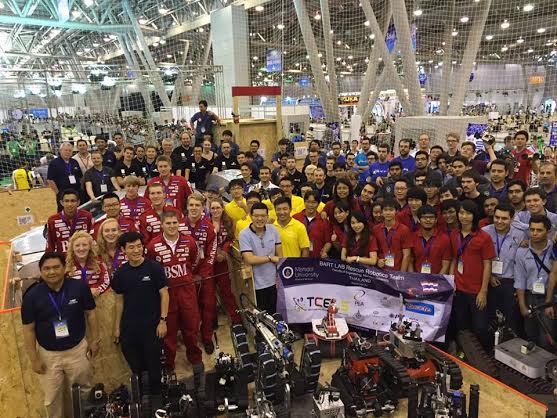 Robocup in China
Graduates of the 2015 class competed as the only high school students in the international RoboCup Rescue competition in Hefei, China. Eleven students from Engineering III––Michael Black, Jon Cadle, Blaise Fitzgerald, Glenna Greer, Vidal Guzman, Michael Starosta, Mitch Lowenberg, John Pupel, Sofia Scott, and Megan Haakonson––used the robot they designed to navigate a course that simulated a disaster. "Teams need to have a robot that can traverse many different terrains in order to find 'victims' (dolls) and other things, but victims are the main focus," Haakonson said.
Haakonson played a major role in her team as the robot's main driver. "I had to navigate the robot through the 'wreckage' to find these victims, and two others on the team needed to be spotters for the robot during the run in case it glitches," Haakonson said.
In addition to participating in the competition, the students were submersed in a completely different culture. "I learned many things about the Chinese culture, especially a lot about Buddhism and some Chinese phrases," Haakonson said.
"Something else that was a little different was that most of the Hefei citizens had never seen a blonde before so they would stop on the street and take pictures of us. Everyone would stare at us when we would walk by; it was a little weird," Haakonson said.
Harvard Med School
This summer, senior Matt Paal went to the National Youth Leadership Forum of Medicine held at Babson College in Boston. While he stayed at the college for nine days, he took two to three classes per day. The seminar-style classes were taught by specialists and medical students exploring everything from medical school to various careers in the medical field. "My group was assigned to go to Harvard Medical School. We got a talk about how to get into medical school, then had a one-on-one meeting with a current student, and then a panel with other students," Paal said.
In addition to the seminars, he participated in interactive experiences. "We toured an EMS training facility, where we learned more about the healthcare system, saw an ambulance and got to practice CPR, intubation, giving an IV and practice giving an EpiPen," Paal said.
He was interested in the program because he had heard it was a great experience from other BSM students, and he also wanted to learn more about being a physician before committing to it. "I wanted to make sure that I actually wanted to become a doctor, and that it wasn't because I had watched too much 'Grey's Anatomy,'" Paal said.
Paal said the highlight of the trip was seeing a prerecorded human autopsy. "A medical student [gave] us a play-by-play commentary on what each organ was and what it did," Paal said.
Besides learning about medicine, he enjoyed the experience of being away from home and living on a college campus. "It also was great to have a little taste of what college life would be like, which helped to take away some of the anxiety of the upcoming year," Paal said.
Cambridge
For one month this summer, junior Macy Rooney attended Jesus College, one of the thirty colleges in Cambridge, Great Britain. Macy decided to travel across the pond and take college-style classes to further explore her interest in the field of science. "I went so I could learn more about medical science from another place besides school," Rooney said.
She was able broaden her interests by taking three photojournalism classes in addition to six science courses each week. "I learned a lot about not only pathology and pharmacology, but also camera techniques and good photo spots in Cambridge," Rooney said.
In addition to studying, she was able to explore the historic cities of Cambridge and London. "We went on a few day trips, including a tour at the Canterbury cathedral and a day in London," Rooney said.
While she enjoyed many aspects of her trip, the best part for her was making friends. "My favorite part was definitely the people. I met so many new people from so many places of the world I've never been," Rooney said.