Copper Hen Only Disappoints
A small restaurant hidden on Nicollet Avenue, The Copper Hen aims to provide a big brunch experience. It fails.
In striving to be a unique destination for hipsters, Uptown's Copper Hen succeeds: it is a big cliché serving clichés. When dining there, you'll simply be eating brunch with shaggy-bearded men with women in coarse sweaters and their children.
Being led to a table about a foot and a half away from the next table over is satisfying in itself after standing for a leg-achingly long period of time in the awkward space  between the hostess' podium and the door (expect a forty-five to sixty-minute wait on Brunch Day). At the far end of the room–about fifty yards away–is the exposed kitchen and a glass case of grainy muffins that don't taste very good. The garnish is sort of unique but mostly cliché: the walls are dented white plaster and the space is lit by strings of tiny exposed light bulbs. The entire place is basically a somewhat rude generalization of the people who live in the neighborhood.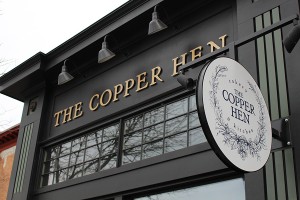 I ordered (with the prompt of the waiter) the Bacon Mac and Cheese, and the reader is advised to do the same if he or she is feeling inclined towards expelling the contents of their stomach in violent, sudden attacks of their gag reflex. It is served in a scalding skillet the insides of which share qualities with the insides of a human. Once it cools down the flavors start to present Adam Eldred
themselves as an intense experience of treble piquancy–cheese, cheese, and cheese–and the bacon is simply a salty explosion. In retrospect, it's just really cheesy and really hot and remains in your digestive track for longer than you would like it to.
In front of every happy Sunday-waster is a plate-bowl of a deep grey pudding–thick solids and liquids unevenly distributed. This is allegedly the Chicken Pot Pie––the Copper Hen's thing––which I also ordered to better results than the Mac and Cheese. Traditionally, restaurants take the drowning of chicken in creamy sauce as an opportunity to throw in fatty bits of cheap chicken that makes you go "ehh?". The Copper Hen, however, apparently does not conduct business with the precept of "if they can't see it, they can't taste it," and the genuine quality of every ingredient makes a noticeable difference.
The Copper Hen contributes nothing new or original to their food or atmosphere even though their brunch is rich and satisfying––but that's probably just because brunch is a rich and satisfying in general.