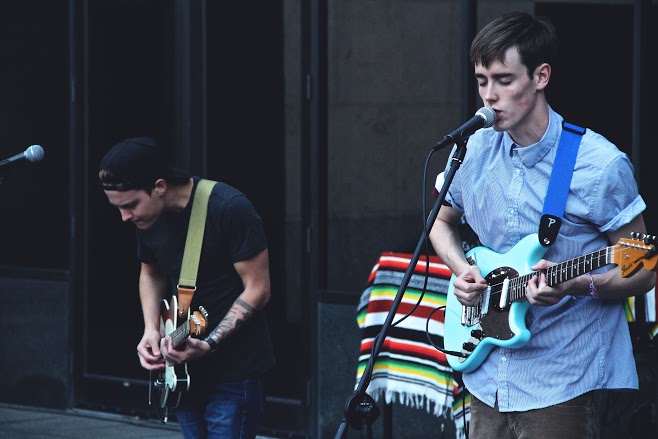 Allan Kingdom
Allan Kingdom will kick off his 2015 relishing in an impressive 2014 where he released two full-length albums, one of which was "Future Memoirs." His psychedelic, self-produced beats cap off his smooth and colorful voice. He has opened up for rappers such as Four Fists and RiFF RAFF, who have left a lasting impression on the hip-hop community themselves. Ranked the number one Minnesota musician of 2014 on City Pages' "Picked to Click," Kingdom is set for stardom and an opportunity to revamp the hip-hop game while repping Minnesota.
Hippo Campus
Trademarked by flashy guitar riffs and powerful vocals, this band of teens has made arguably the biggest splash in the emerging Twin Cities music scene for a while. Constantly performing live and recently releasing their highly successful "Bashful Creatures EP" are only a few of the things Hippo Campus is doing right. These St. Paul alums have surfaced with lyrics and production better than most veteran musicians. Despite performing together for only a little over a year, their quick and undeniable chemistry will see them world-renowned in no time.
Corbin
Corbin, who previously went by the stage name Spooky Black, is a musical enigma. Outside of his fuzzy past, his distorted and sometimes, for lack of a better word, spooky R&B vocals have touched many music listeners. One minute a Spanish guitar riff will be playing in the background, and the next he will be singing over the bass of modern day trap music. An outlandish, confusing, and endearing image makes this sixteen-year-old emerging star a force to be reckoned with in the music industry. His moving voice and chilling vocal range provide an eerie but enjoyable vibe for listeners.
Doomtree
Doomtree is an indie hip-hop group and record label in Minneapolis, MN. Rappers P.O.S, Dessa, Cecil Otter, Sims, and Mike Mictlan combine with producers Lazerbreak and Paper Tiger to form a quick-witted and complex bunch of lyricists. Their annual "Doomtree Blowout" events held in various Twin Cities venues are a hit amongst music fans. Unlike most groups, Doomtree is composed of a tangled combination of musical influences, as each individual artist brings their own unique sound to the table.
Stereo Confession
Formed in the halls of Minneapolis Southwest High School, Stereo Confession's youthful exuberance stole the attention of Susstones. Inspired by musicians such as Weezer, Wavves, and the Beach Boys, they shine light on a long forgotten garage-rock sound. Their full-length album, "No Coast," highlights their salad days lives with tracks such as "Video Games" and "Hang Ten." Their dedication and excitement find them scaling the rankings, not only among Minnesota musicians, but among those of the world as a whole.
Toki Wright & Big Cats
Ranked tenth on City Pages' "Picked to Click Best New Minnesota Musicians of 2014" list, rapper Toki Wright and producer Big Cats are on the rise. With their most recent effort, "Pangaea," the duo broadened the horizons of hip-hop. A blend of anarchy and archetypes, the poetic Wright's sound makes these two the most influential hip-hop show in the Twin Cities. Meaningful rhymes over funky rhythms and riffs combined with the artists' motivation to bring attention to Minnesota hip-hop scene make for an enjoyable listen.