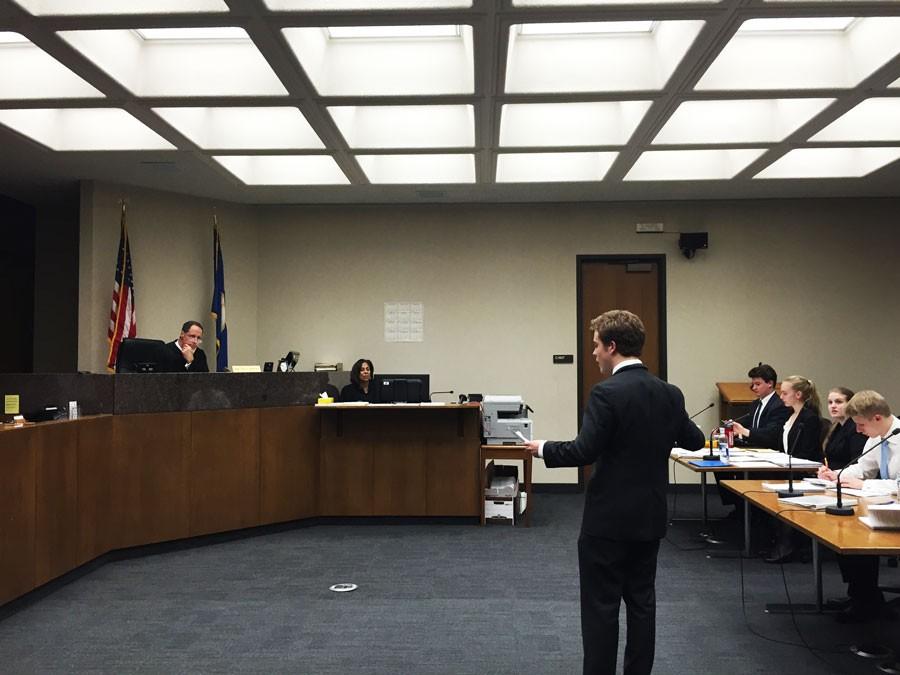 Rachel Lyons
While most students spend the nights before finals in caffeine-driven cram sessions for hours on end, one team of ambitious students will delay their studying in order to participate in the first Mock Trial competition of their season.
This year's BSM Mock Trial Team shows strong possibility of success with a talented group of students and committed supervisors with a drive to make it all the way to the State Competition. "Last year, we were four points shy of going to state and that was against the team that won state. We have everyone from that team back except for one graduate. We are very optimistic and feel that we have very good opportunities with our talent," Advising coach, Ms. Mary Murray said.
Murray and Wing-Sze Sun, attorney adviser to the team, lead the 22 students divided into a JV and Varsity team.  Through rounds of competition, the winner of each statewide case will advance to regional and state finals in January. Each team is made up of six witnesses and six lawyers who are awarded points by judges in real courthouses based on their performances and understanding of their case.
In order to be successful, students have to practice their speaking and acting skills along with their knowledge of law. "[Students] have to be good at thinking on [their] feet. Being a good public speaker also helps. There is also a little bit of acting involved, so that is a skill that helps. [They] also have to know the case inside and out," Murray said.
Students who have participated over the years have noticed that the team has grown in both size and ambition. A three-year member, Megan Haakonson, observed the difference in the team's attitude towards competitions, aided by the team's many tenacious seniors committed to finish their last season strong. "This year we are more focused on getting through the first round of competitions and more driven–not so much that this will be just a fun time, but a lot more looking in advance and realizing that we have a lot of talent [on the team] this year," Haakonson said.
Along with the returning team, there are many new members with potential to excel in the academic sport. Sophomore Gracey Scott quickly made an impression and found out that Mock Trial was not at all what she expected it to be. "I didn't know that I would start up being a lawyer this year because kids usually have to work their way up to be a lawyer. I learned so much that I would have never learned in a classroom," Scott said.
Students have shown their dedication to the team by practicing two to three times per week together, attending scrimmages and competitions, and meeting individually or in pairs with coaches and teammates to perfect their parts. "You have to be very dedicated to it. It's a lot of work; you have to do more than just practice. If you don't know what you're doing it will show," Haakonson said.
To the team members, Mock Trial is almost like taking an extra class, as there is work that must be done outside of practices. "There is so much work outside of it. I'm the opening, so I have to write an opening statement. It is two pages and I have to write and continuously tweak and edit it, " Scott said.
Mock Trial is promotes many abilities that students can use inside and outside of the classroom while giving a head start to students interested in pursuing a career in law. "It's a club that promotes better communication and speaking skills. It teaches you things that you need to know as an adult, like how to win and present an argument in a mature way. The experiences that our Mock Trial kids have last a lifetime," Murray said.