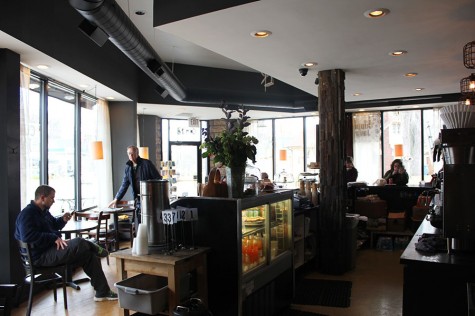 Cuppa Java
From the outside, Cuppa Java is a charming and inviting coffee shop located in the Minneapolis neighborhood of Bryn Mawr near Theodore Wirth Park.  With full glass windows, modern metal tables, and cozy chairs it is easy to kick back and enjoy the many pastries, sandwiches, teas, and coffees they have to offer.  Their specialty is their tastefully done sandwiches.  If you're lucky you'll be able to grab one of the sofa chairs or the secret back room, perfect for a quiet studying.  In an area with a plethora of coffee shops, this is one that stands out from the others and is worth checking out.
Uncommon Grounds Coffee House
This quaint coffee house sits right on Hennepin Avenue in Uptown.  It is set in an ornate, renovated Victorian home built in 1877.  Complete with plush emerald green booths and old photographs its welcoming and homey aura makes this a prime place to get comfortable.  Even though it has an elegant ambience this shop produces a warm, quiet, casual, and cozy environment to have a conversation with a friend or get some studying done.  It is known for its smooth, rich coffee blend, mochas, chais, and desserts.
Lucia's Restaurant/To-Go
This organic and innovative restaurant is located on Hennepin Avenue in the heart of Uptown.  They provide a small and clean eating area that changes their menu every week based on seasonal appetites and customer input.  Asking your server what he or she recommends is a fantastic way to go about dining here.  Known for their fish, quinoa, and greens, Lucia's restaurant rarely disappoints.  They are paired with an extraordinary to-go service that lets customers call in advance to learn about their weekly menu or even customize your own.  They produce an organic take on breakfast, lunch, and dinner through their to-go menu making them an extremely versatile place to grab something quick or take it easy and enjoy the experience.
Victor's 1959 Cafe
This colorful, shack-like Cuban restaurant in south Minneapolis offers an exceptional opportunity to immerse yourself in Cuban culture with music and stellar traditional Cuban recipes.  Vibrant table cloths, posters telling the history of Cuba, and customer-created graffiti generate a laid back atmosphere that sets the entertaining and casual environment for customers.  This restaurant has amazing exotic foods and flavors you have yet to taste.  The root of the tropical cassava plant called Yuca, specialty drinks, corn pancakes, and meats are their most famous draw among diners.  When visiting don't forget to bring along a sharpie to leave your mark on the walls.
Sparks
A neighborhood corner restaurant featuring a wood-fired oven sits on Cedar Lake Road in Bryn Mawr.  It is a snug and intimate eating experience.  If the weather is right, they roll up the large glass doors to create an outdoor patio perfect for a pleasant night.  This adds to the warm, contemporary character of the restaurant.  Most everything on the menu––complete with flavors and ingredients from around the world––comes out of the wood fired oven.  Although the menu is constantly evolving, some dishes are always available––such as the pita bread with hummus, pizzas, baked ziti, and the bulgogi beef tacos.  Due to its wide variation of cuisine it caters to a wide variety of customers.
Wok in the Park
This inviting Asian bistro is family-owned and operated.  Located on Minnetonka Boulevard, the interior of the restaurant has elements that allude to the cultural experience for the dishes they prepare.  Every meal is made fresh and has high quality ingredients.  They are known best for their tastefully-done spring rolls, thai green curry, stir fry dishes, and pot stickers.  Make sure to call ahead late winter as the restaurant closes when family goes on a week long vacation.
Mesa Pizza
This clever New York-style pizza joint is conveniently located at the Lake Calhoun end of Uptown on Lake Street.  Getting creative with their pizza choices since 2011 is Mesa Pizza's specialty.  Some of their interesting concoctions include macaroni, barbeque, buffalo chicken, steak with fries, and some vegan options.  Making an efficient use of their space Mesa Pizza has an edgy and urban feel to it drawing customers from all walks of life.  Dining is efficient and exciting.  Mesa has you in and out of there in no time with a delicious slice of their one of a kind pizzas.