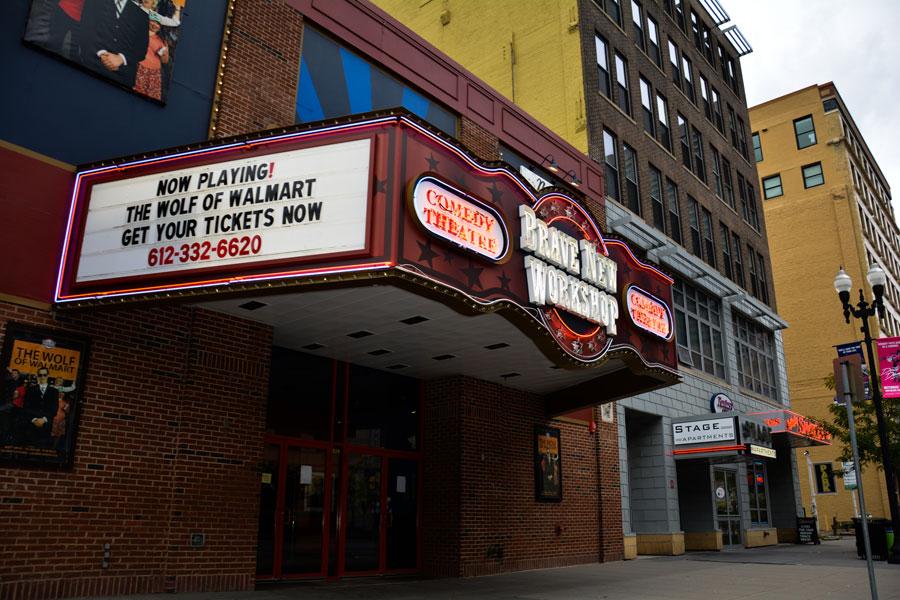 Keenan Schember
Downtown Minneapolis' Brave New Workshop has been a monument for the past 55 years. Although enjoying your night there is a bit pricey, their edgy brand of satirical comedy is entirely worth it.
Brave New Workshop puts on several different shows each year, changing every month. They are currently performing The Wolf of Walmart. Sounds familiar? Their spin off of The Wolf of Wall Street film confronts issues that are highly debated in the world today: who to vote for, women in the workplace, and most importantly, the buffering of Hulu and Netflix.
The topics are regarded in a satirical manner through various non sequitur sketches. In regards to the buffering of online television, they created a live reenactment of what a buffering episode of the intense TV show "Rumours" would look like.
After watching the hilarious show, you might realize that your comedic talents are slim to none. But no need to worry; the Brave New Workshop offers several different improvisational classes to improve your comedic talent. Classes are offered for all different skill levels, so no matter how unbelievably awkward or hilarious you are, you can learn something in these classes.
In the style of a movie theater, the Brave New Workshop can maintain your craving for junk food accompaniment. However, if you have ever been to any kind sporting event, you know that the cost of one bag of popcorn is somewhere around your life savings. This also applies to the Brave New Workshop; if needing a super quick snack, forget about college tuition because you will be spending all your money on a pack of Peanut M&M's.
Weather you're in the mood for a scathing satire, having a drink, or improvisational classes, the Brave New Workshop's endless supply of entertainment is a highlight of the Twin Cities. Despite the steep prices, you will not regret your mistake when you are laughing so hard you are crying.