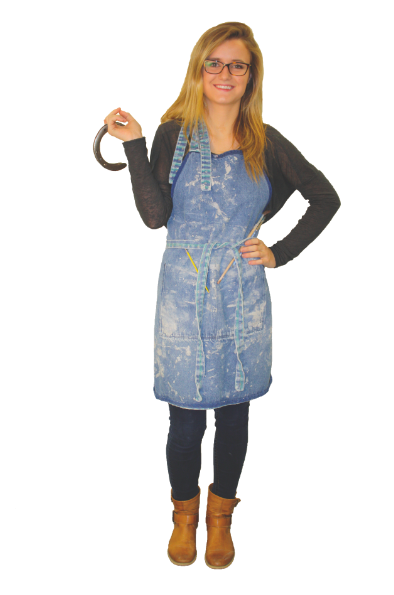 While most BSM students spend their free time play- ing sports or participating in the various extracurricular activities the school has to offer, Sarah Hoesley has strayed from high school norms, competing in equestrian events since a young age.
As an equestrienne, a horse rider, or performer, Sarah has excelled in her field ever since she started riding horses at eight years old. A friend had convinced her to come to an equestrian camp, and the senior hasn't looked back since. "My friend convinced me to go to horse camp with her and I ended up loving the horses," Sarah said. "So for my eighth birthday, my parents bought me a package of four lessons and they never stopped."
Since her very first lessons, Sarah fell in love with both horses and the work that goes along with owning and training one. Her love of animals helped spark this interest, and training horses has built relationships that far exceed those of any pets. "I love the bond you build up with your horse," Sarah said.
Sarah competed in her first equestrian competition at the age of eleven and continually competes about five times each summer in shows around the country. The training process can be grueling at times, due to the unpredictability of horses as animals. "Horses are flight animals and can freak out at any moment, destroying your scores," Sarah said. Her kindness and laid-back attitude, though, keep her emotions in check regardless of the outcomes at competitions. "You have to keep in mind that your horse is trying so you can't get mad if they misbehave."
While Sarah's competitive side fuels much of her love for performing in shows around the nation, she finds a balance between overtraining and casually riding. "I have a medium between the two. I love to go out on trails and gallop, set up some jumps, or goof around," Sarah said. "But I also do serious training. I have lessons twice a week and I'm a serious competitor in shows."
Sarah's quite aware that she's obsessed with horses, but really wants to let it be known that she's not one of those crazy horse girls. "I'm normal, I swear!' she said.
But it hasn't been easy. Balancing her friends, stellar grades, horses, work, and family activities has been a struggle at times for Sarah, but overall, she's flourished both in the classroom and on the track. "I think I did a pretty gnarly job at making sure I had everything in check," Sarah said.
Off the track, Sarah's bright and upbeat attitude is felt throughout BSM's halls on a daily basis. As well as being one of the most friendly seniors in the class of 2014, she boasts a talent for the arts, showcasing projects from her AP Clay class in Apotheosis.
Next year, Sarah is headed off to the University of Indiana and plans on majoring in business. She also plans on participating in the Equestrian Club team at Indiana. "Once again, let me just remind everyone that I'm not a crazy horse person," she said. "That being said, I'm super excited for the next phase."
But of course, it will be bittersweet for Sarah to leave her favorite thing about BSM. "I'm gonna miss those Taher cookies, they're so dang good."