Tremendous Twelve
Every year, the senior editors of the Knight Errant recognize twelve members of the graduating class for their talents and interests. These "unsung heroes" are often overlooked, but their varied skills and achievements make each member of this list tremendous.
June 4, 2014
Sarah Hoesley isn't just horsing around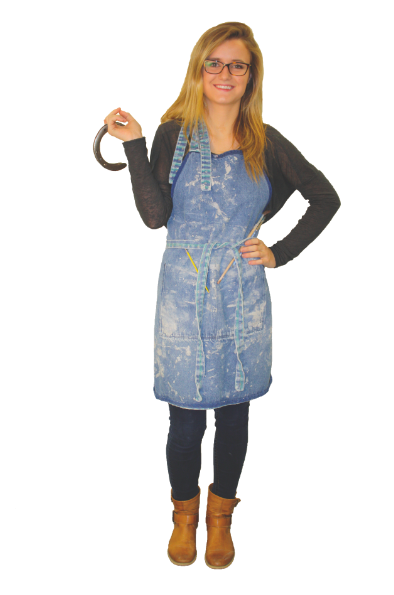 While most BSM students spend their free time play- ing sports or participating in the various extracurricular activities the school has to offer, Sarah Hoesley has strayed from high school norms, competing in equestrian events since a young age.
As an equestrienne, a horse rider, or performer, Sarah has excelled in her field ever since she started riding horses at eight years old. A friend had convinced her to come to an equestrian camp, and the senior hasn't looked back since. "My friend convinced me to go to horse camp with her and I ended up loving the horses," Sarah said. "So for my eighth birthday, my parents bought me a package of four lessons and they never stopped."
Since her very first lessons, Sarah fell in love with both horses and the work that goes along with owning and training one. Her love of animals helped spark this interest, and training horses has built relationships that far exceed those of any pets. "I love the bond you build up with your horse," Sarah said.
Sarah competed in her first equestrian competition at the age of eleven and continually competes about five times each summer in shows around the country. The training process can be grueling at times, due to the unpredictability of horses as animals. "Horses are flight animals and can freak out at any moment, destroying your scores," Sarah said. Her kindness and laid-back attitude, though, keep her emotions in check regardless of the outcomes at competitions. "You have to keep in mind that your horse is trying so you can't get mad if they misbehave."
While Sarah's competitive side fuels much of her love for performing in shows around the nation, she finds a balance between overtraining and casually riding. "I have a medium between the two. I love to go out on trails and gallop, set up some jumps, or goof around," Sarah said. "But I also do serious training. I have lessons twice a week and I'm a serious competitor in shows."
Sarah's quite aware that she's obsessed with horses, but really wants to let it be known that she's not one of those crazy horse girls. "I'm normal, I swear!' she said.
But it hasn't been easy. Balancing her friends, stellar grades, horses, work, and family activities has been a struggle at times for Sarah, but overall, she's flourished both in the classroom and on the track. "I think I did a pretty gnarly job at making sure I had everything in check," Sarah said.
Off the track, Sarah's bright and upbeat attitude is felt throughout BSM's halls on a daily basis. As well as being one of the most friendly seniors in the class of 2014, she boasts a talent for the arts, showcasing projects from her AP Clay class in Apotheosis.
Next year, Sarah is headed off to the University of Indiana and plans on majoring in business. She also plans on participating in the Equestrian Club team at Indiana. "Once again, let me just remind everyone that I'm not a crazy horse person," she said. "That being said, I'm super excited for the next phase."
But of course, it will be bittersweet for Sarah to leave her favorite thing about BSM. "I'm gonna miss those Taher cookies, they're so dang good."
Kenny Egelkrout "Cooks" his way to success, one McChicken at a time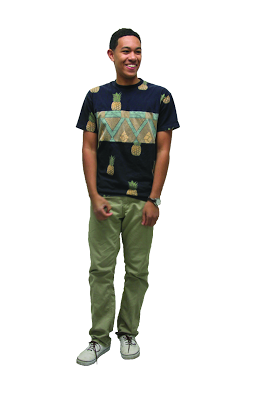 "Did you know Kenny is only 16 years old?" a senior exclaims while walking down a busy hallway. "There are sophomores that are older than him." Yes, at just 16 years old, and the youngest BSM graduate in recent memory, Kenny Egelkrout is notorious for his lack of age.
"I'm surprised it's taken people this long to find out," Egelkrout says about his age difference. "I just think it's funny," he said. "I only skipped one grade and I was already young, so here I am." The senior only got his driver's license this past February, but Kenny's age is hardly the most interesting thing about him.
While some students portray their artistic talent through painting or music, Kenny likes to express himself through cooking. Well, sort of.
"It's a dance—no, it's an art form," Kenny says about the dance style he and fellow senior Christian Dulaney made popular at BSM. "Dancing" is probably an exaggeration, though, as Kenny imitates cooking motions like cracking eggs, and removing items from an oven with his hands. "It takes practice," he says. "If you haven't seen the Lil B video on how to cook, you have to watch it. No, seriously, if you're reading this right now, go on YouTube."
Along with "Cooking," Kenny actually cooks the meanest chicken sandwich at the Fridley McDonald's. "I can grill it up real good," he said. He continually thanks quick quips "Based God" aka rapper "Lil B" for his employment opportunities.
Whether he's telling his story of adventures in White Bear Lake (ask him, it's worth the twenty minutes) or discussing the Chappelle Show, Kenny's contagious laugh can fill up any room. His over-the-top stories, which range from getting a knife pulled on him at a reggae festival in Jamaica to befriending Daniel Tosh after a show are all equally shocking and hilarious. They go a little something like this:
"Yeah, so some dude with giant dreads cut us off and I think I might have scuffed his shoes and he got so mad and said I specifically stepped on his shoes," [pause for Kenny to laugh] "And then his girlfriend keeps egging him on, like, 'yeah, you stab that boy,'" [he laughs harder] "So he pulls a KNIFE on me!" [At this point, the whole class is listening] "He didn't end up stabbing me, though, which was pretty tight."
Kenny doesn't necessarily take his extra-curricular activities extremely seriously, but he brings energy and excitement to any team. His favorite activity over his past four years at BSM? JV tennis, a team that he, along with five other seniors, play on. "The dopest seniors get together and play against 8th graders in tennis," he said. "The coaches are unreal too."
Next year, Kenny will be attending the University of Southern California in Los Angeles, and plans on majoring in Neuroscience. "I love California and Los Angeles, and once I started playing Grand Theft Auto 5, I loved LA that much more. So it was really a no-brainer."