Nordic skiers thrive at junior national competition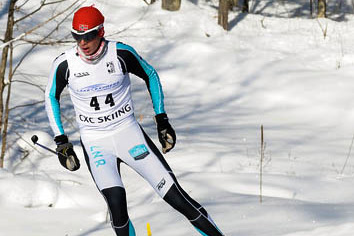 Senior captain Andrew Egger and sophomore Amanda Kautzer have proven themselves throughout the nordic season, skiing their way through the state competitions and onto the national scene where they competed against the top racers across the nation at Junior Nationals in Stowe, Vermont.
After a season filled with success, Egger placed 17th at State and Kautzer finished in 14th. The two were then chosen to represent the Midwest region at Junior Nationals. The selection process for this competition begins during the regular season where racers get points for placing well. Those with the highest points get to go to Vermont. "It was incredibly exciting to qualify. I took the risk of going to Maplelag with the bsm team which was during some junior national qualifying races. I knew though by the last junior national qualifier that I would make it based on points," Kautzer said.
For four days, the racers competed in a variety of different competitions against a multitude of both collegiate and high school skiers. With skiers coming from all across the country, the athletes participated in different types of races: skate and classic with a diverse range of sprints and long distance races.
Winning her classic sprint race amongst an abundance of other top skiers, Kautzer was crowned National Champion for the fourteen-through-sixteen age group. "I definitely don't feel like a national champion. I've never been a good sprinter especially in track so I was not expecting to do well at all…I'm still a little in shock. When I finished I fell over because I was so tired and my coach picked me up and told me I was national champion," said Kautzer.
Egger received All-American honors after his performance in his classic sprint race. "Finishing the race I did not really think about the fact that I was All-American. I was just happy that I had had a great day of races and looking back I realize it was a pretty big deal," said Egger.
Both skiers credit a lot of their sound performances this year to their coaches. "They are always out on the course cheering for you or giving you splits. Without their immense support on the high school and junior national level, there is no way I could have been nearly as successful this season," said Egger.
"My coaches create my training plans, wax my skis (a huge part of speed in the race). Mr. Wander helps so much with waxing skis, letting us use his skis, and generally being there for the skiers all the time," Kautzer added.
Looking towards next year, they hope to continue their success as Kautzer plans to continue forward in her high school journey while Egger takes his talents to college "I haven't fully decided on what I'm going to do in college. I've been accepted into the Navy ROTC program which I am very interested in, but I would also love to continue nordic. It's going to be a tough decision," said Egger.