Emily Larson
As the clock ticked down in the final minute of the girls' hockey dominating 8-0 victory over North Metro in the Section 6AA quarterfinal, senior goaltender Abbey Miller understood the significance of the victory not for the importance of the game, but that the shutout gave her 29 for her career and made her the state's all-time leader for career shutouts.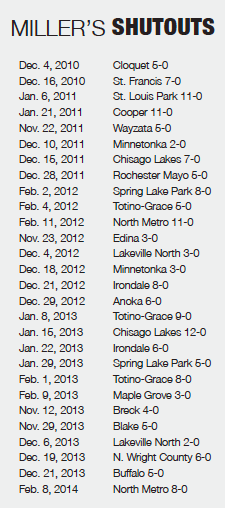 Miller began playing hockey at a young age, but never thought she would have the success that she has had in her career. "I started playing goalie when I was 8 years old, but I never thought I would ever be breaking a state record," Miller said.
Miller's talents as a goalie were noticed by Benilde-St. Margaret's head coach Mr. Dave Herbst and she was placed on the varsity team as a freshman and recorded four shutouts during the season. "I wanted someone who was really athletic and technically sound and that's what Abbey is," Herbst said.
As Miller established herself as the starting goalie for the Red Knights at the start of her sophomore season, she continued to improve her play and develop as a player and started to hear from colleges interested in having her join their program. "I was getting some letters from colleges my sophomore year but I didn't really start talking to colleges until the beginning of my junior year," Miller said.
During her junior season, Miller recorded 11 shutouts and allowed less than a goal per game average, which set the stage for her to break the record. "It was one of my personal goals for this season but I tried to not make it my main focus," Miller said.
Miller collected five shutouts through the Red Knights' first 13 games this season, but was struggling to get the record-breaking shutout. " I was tied with the record for a month and a half, and I couldn't get a shutout to break it," Miller said.
The section quarterfinal against North Metro offered Miller the perfect opportunity for her to break the all-time record, and she delivered with the 29th shutout of her career. "I was really excited; I set a goal at the beginning of the season and it was great to achieve that goal," Miller said.
Miller's presence in net has not only made it difficult for opponents to score on the Red Knights, but also given her teammates confidence on the ice. "She allows us to play offensively and take more chances, and in big games it gives us confidence that if we can score at least three goals, she will hold them to less than that," four-year teammate Kelly Pannek said.
The previous holder of the record was Amy Jones who graduated from Park Center in 2001 and is currently one of the JV coaches at Benilde-St. Margaret's. "When I was interviewing for the job, she was close to breaking the record and that's how we got to know each other," Jones said.
Miller's record-breaking shutout came against North Metro which is made up of various schools including Jones' alma mater. "It's sad, but I'm glad to pass the torch on to someone within the program," Jones said.
Next year, Miller will be playing college hockey at Syracuse University and even though she now holds a state record, there's one more thing she'd like to add to her career resume: a state championship.