Valentines Couples
Hollie Christensen and Cody Cullen
Knight Errant: When you and Hollie go on dates what is your best choice for a fine dining establishment?
Cody Cullen: Any of the five McDonalds off of highway 55.
KE: How long have you been together?
Hollie Christensen: Too long.
CC: Too long.
KE: How long have you withstood without talking to each other?
CC: Seventeen years.
HC: Seventeen years and two months.
KE: Do you remember the first time you met? Fireworks?
CC: There were no fireworks in the background.
HC: There were noises of bowling pins.
CC: I agree there were bowling pin noises but no fireworks.
KE: I'm just spitballing but did you meet at a bowling alley?
CC: No.
HC: Yes.
CC: I'm pretty sure we were outside.
HC: Where outside?
CC: With fireworks.
KE: How did it feel to take the step of becoming FBO? Describe your thought process?
CC: I was far, far away in Naples Florida, and I just so happen to skype Hollie that night. And then it happened.
KE: Who did it?
CC: Hollie did it.
HC: I didn't even say anything I just changed it. Then we had to decide what type of relationship, domestic or regular.
CC: My sister was in the background watching Dance Mom's, it was magical.
KE: How do your parents feel about your relationship?
HC: My parents don't like him at all.
CC: I got stuck in their snowbank twice, her parents had to shovel me out.
HC: He is very high maintenance.
CC: My dogs like her, that is what matters most.
HC: They liked me so much they peed on me.
CC: True.
KE: Do you play Chess together?
CC: In all honesty, we only play Checkers.
HC: I'm pretty sure we've never played Checkers.
KE: What is your favorite thing about him/her?
CC: Eyes.
HC: His dogs, and his nice eyebrows.
KE: If you had to describe your partner as an animal, which animal would you choose?
HC: Clifford the Big Red Dog. He likes Clifford, and he is wearing red right now.
CC: One sec I have to google animals real quick. [a few minutes later] A llama. She spits a lot.
KE: What disney princess and price would you be?
HC: I would be Tarzan.
CC: And I would be Belle.
HC: It's because Belle likes to read a lot, and he is super bookish.
KE: What's the weirdest thing you know about the other person?
HC: Cody is really bad at shaving his legs.
CC: She is specifically not a fan of boiled eel.
KE: If you had a hotdog eating contest which of you would win?
HC: I hate hot dogs.
CC: I would win by default from Hollies dislike of hot dogs.
KE: What are your future plans together?
HC: Tomorrow we're done.
CC: Yes. We're breaking up tomorrow.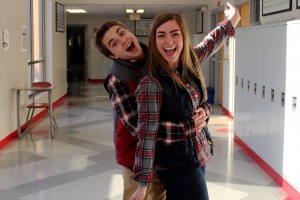 Jonathan Paquette and Emma Zamec
Knight Errant: You're getting ready for a date: what song do you blast to get pumped up?
Emma Zamec: Taylor Swift
Jonathan Paquette: Usually Man Of The Year by Schoolboy Q but I'm starting to like country too. But like pop country, not 'I killed my dog and drank a beer in my truck' kind of country. I actually love any kind of music really.
KE: How long have you two been together?
EZ: we've been friends for a while, but we started hanging out a lot about three months ago.
JP: Yea it all kind of started when we went to Homecoming together, but it's only been official official for a solid day and a half.
EZ: A day and a half of absolute bliss.
KE: What was your first impression of each other?
JP: We met for the first time at Maddie Moore's cabin during the summer going into our junior year. And I mean I obviously thought she was pretty attractive when I first saw her.
EZ: We spent a lot of time talking that weekend. I guess I just remember you being really easy to talk to. Oh and I remember we went jet skiing together.
JP: But I'm pretty sure you liked Tift then, so I think you ended up spending most of the weekend with him…
EZ: Oh my god you're right. But everyone likes Tift at some point, so it wasn't anything personal.
KE: You've planned a picnic in the park: what food do you bring for your date?
JP: Cheese, loads of cheese
EZ: I hate cheese.
JP: I know, I'd probs get her Chipotle
EZ: Oh for sure Chipotle. I know his order by heart.
JP: Oh man, that's when you know it's getting serious.
KE: If you had to describe each other with a color, what color would it be and why?
BOTH: Red
EZ: I'd say red for him because it's his favorite color.
JP: Actually no, I'm changing my answer to blue. She looks great in blue, and she loves anchors and sailing.
EZ: I don't actually sail, but I love the idea of sailing. He got me a bracelet with an anchor on it for Christmas actually.
KE: What did Emma get you, JP?
JP: This shirt *points to flannel*. I wear it every Friday for 'Flannel Friday'. It's a thing.
EZ: It's definitely catching on.
KE: What romantic comedy is most like your relationship?
JP: Well on our first date we watched Fifty First Dates.
EZ: Which is about memory loss—so that's not really us.
JP: The Vow?
EZ: Also about memory loss. What are you trying to say, JP?
KE: Favorite thing about each other?
EZ: Well, his sense of humor because sometimes I get really stressed and then he can always make me laugh. He is the nicest person I have ever met; he is also always there to back me up. And he's really cute.
JP: She's always there for me, which is really nice. There is also never a dull moment when we hang out; she's always up for trying new things. Even if ends up with us embarrassing ourselves—like it usually does.
Mimi Burns and George Boosalis
Knight Errant: If you had to describe each other with a color, what color would it be and why?
George Boosalis: I think the best color to describe Mimi is periwinkle. She is outrageous and outgoing. When I think of Mimi I think periwinkle.
Mimi Burns: This is hard….ummm….come back to me.
KE: You're getting ready for a date, what song do you each listen to?
GB: Well I really like Timber, but I'm gonna have to say Tic Tock, by Kesha. That is my pump song.
MB: I am going to have to go with Turn my Swag Song On. My Swag needs to be present for all dates.
GB: Your swag was what sold me on our first date for sure.
KE: What was your first impression of each other?
GB: One word: obnoxious
MB: I can't really remember. It was probably something nicer than yours though.
KE: What romantic comedy is most like your relationship
GB: A good rom com? We definitely enjoy rom coms.
MB: My obsession with Pitch Perfect basically started our relationship…I was trying to get him to watch it with me for months.
GB: I didn't think would like the movie, but it was actually pretty good.
KE: Who would you say is the more dominant one of the two of you?
GB: I am for sure in charge…I set the tone….it is all about me…
MB: That's a lie. We both know I'm the boss
KE: How did you ask him to Holiday Ball?
MB: He has an obsession with Miley Cyrus and I decorated his room with a poster of Miley that said "do your thang with Mimi at HB"
GB: I messed with her for like 2 hours and just didn't respond it was kinda funny.
MB: It wasn't funny.
GB: I still think it was pretty funny.
KE: What is your favorite thing about eachother?
MB: Ohhh his hair is like McDreamy; it's like Dr. Sheppard. That's really the only thing I like about him.
GB: Whenever I go her house I can play with all of her cats. She has three cats.
MB: George, you're allergic to cats.
GB: I know. I actually hate her cats.
Kendel Malcolm and Mikey Lamb
Knight Errant: So how did you two meet?
Kendel Malcolm: We actually met over Vine
Mikey Lamb: Uh, yeah.
KE: If you would compare your relationship to a celebrity couple, which one would it be and why?
KM: Justin Bieber and Selena Gomez
ML: I like to consider myself like Justin Bieber, with my demeanor and whatnot
KM: And I'm a great singer
KE: What are some challenges of dating between grades?
ML: Our grades sometimes have tension, especially with the girls
KM: Yeah, sometimes I just need to learn my place
KE: Do you have any plans on Valentine's Day?
KM: I have state for dance
ML: And I have hockey, so we won't be together.
KM: Yeah, I won't even be at school.
KE: If Kendel was an animal, which one would she be and why?
ML: [uncomfortably] A deer. It dances when it runs, I don't know.
KE: Do you like each other's friends?
KM: [obviously lying] I like them
ML: Besides Mimi, yeah I do.
KE: What's your favorite thing about each other?
ML: She's got glass seats for the Wild.
KM: He's got a great brother. Him and I spend a lot of time together, and we talk a ton. We get really deep.
KE: What's your least favorite thing about one another?
ML: Ok, this is super soft, but I don't get to spend enough time with her.
KM: He lives so far away.
KE: Do your parents like him/her?
ML: I think so…
KM: My mom is obsessed with Mikey. I wouldn't be surprised if she starts texting him soon.
KE: What did you do on your first date?
KM: I threw up.
KE: Was that because of him?
KM: [laughing] No I had the flu, so I wasn't feeling well. And then driving home, he almost hit a biker with his car.
KE: Scale of 1-10 on the first date:
ML: 7, besides her throwing up and me nearly crashing my car, I thought it was actually pretty fun.
KE: Mikey, I know a lot of people are wondering, what's it like dating a Knightette?
ML: I do have some experience with the Knightettes, so I'm used to it. It's great.
KE: Kendel, I know a lot of people are wondering, what's it like dating an SLP Flyer?
KM: It's unbelievable, they're all so hot. It's a great group of guys.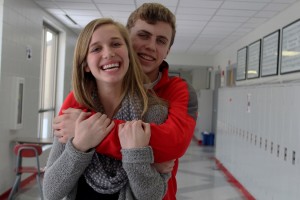 Claire Torgenson and Luke Horton
Knight Errant: When did you guys start dating?
Claire Torgeson: October…..
Luke Horton: It was on October 19th.
KE: What is your favorite part about him?
CT: Are you serious? Do I really have to answer this? um.. he's funny I guess.
LH: Oh thanks.
CT: Yeah, no problem.
KE: What is your favorite date you've gone on?
CT: We don't go on dates.. we made cookies one time.
LH: Claire that's so embarrassing don't share that…
KE: Do your friends like him?
CT: Yeah, of course we're all friends.
LH: I hope so.
KE: Do your parents?
LH: Yeah, they think she's super nice.
KE: What it love at first sight?
CT: This is so awkward why am I answering these