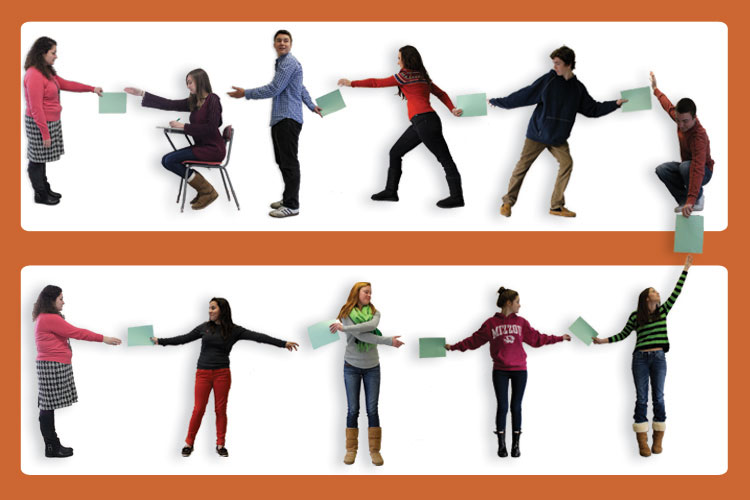 Anne Arnason
In the Benilde-St. Margaret's cafeteria, two students sit side by side with matching worksheets––one sits idly, a finished assignment in front of him while the other frantically copies word for word what his peer wrote. They aren't cheating though, they claim that they are only "checking answers." How to define cheating and what sometimes makes it okay are character-defining decisions that all students make on a daily basis. With students' increasingly busy schedules and larger workloads often filled with "busywork," the ways of justifying cheating are increasing as the practice itself has become more acceptable among a large percentage of the BSM student body.
When Morality teacher Mr. Joe Pedersen asked his students their views on cheating, the general response was that BSM students have no ethical problem with cheating due to heavy workloads and only find issue with their actions if they are caught. "I was a little surprised, I guess, to hear that there's not more of a moral or ethical dilemma involved in [cheating] — that it would just be something that's okay, that people wouldn't feel bad about," Mr. Pedersen said.
While most students agree that cheating on tests is wrong, and most refrain from doing so, the same is not true for dishonesty on homework assignments. Many students feel that cheating on "busywork" is not morally wrong because they believe it has no effect on their knowledge of the subject or their future in the class. "It is more justified to cheat on busywork because the assignment will most likely not help you in the long run," a student who spoke on the condition of anonymity said.
"I study for tests, but [I'm not going to do the homework assignments] because it's all busywork. I have access to my sibling's old assignments. There's no point in me doing it," a second anonymous student said.
Busywork most often describes the repetitious assignments that involve completing the same skill multiple times and waste time rather than teach students necessary information. Though tedious, for some classes, busy work is essential. In subjects like math where repetition is the only way to master the material, homework that could seem pointless actually improves a student's understanding of the topic. "I want to see what you think. I'm less interested in students regurgitating. But I understand that not every class can do that. For some classes repetition is key. Math, foreign language, whatever it is. Sometimes that repetition is key. It's not that I don't understand the temptation," said Mr. Pedersen, who tries to avoid giving out worksheets or homework that could be construed as busywork.
In other cases and courses, busywork takes on a different meaning. "The ones who don't want to do the assignments call it busywork, but because of the way the AP exam is set up, there is so much factual information [students] need to know. I do try to make it more manageable [for students]," AP United States History teacher Sister Jeanne Marie Vanderlinde said.
Students may have a different definition or view of busywork than the teacher. "If the teacher thinks it is important to the class, then it should be important to the class. It isn't really [a student's] role to question that. I mean they can question it in their head, but to make a decision and an action [such as cheating in any way] based on that, it doesn't really make a lot of sense," Latin teacher Mr. Rob Epler said.
There are some educators who believe it is a teacher's responsibility not to assign what could be constituted as busywork. "I think it's the nature of assignments [that has students cheating]. If we want to be a school to make critical thinkers, we have to give opportunities to do that. Any way you can structure a class to force that is ideal. As teachers we should be called to assign productive work," said religion teacher Ms. Alison Frank.
With the increased presence of technology in academic lives, it becomes increasingly difficult to catch the academically dishonest. With resources like Google Translate, free online essays, Google Docs, and online AP assignments, students can easily access methods of cheating on their BSM-issued laptops. "[Cheating] has just taken different forms over the years…it's so easy for kids to get stuff that they can just cut and paste," Sister Jeanne said.
"If a student is copying someone else's homework, he or she is not getting much out of it. If a student is using Google Translate, he or she is not getting much out of it. If a student does not put anything into it, he or she is not going to get anything back out of it… The saying "You're is only cheating yourself," is kind of the truth, because what one is going to end up with is someone who doesn't know how to read a language. And where's that going to show up? It's going to show up on a test where the student can't use Google Translate, and it's just he or she and his or her brain," Mr. Epler said.
At BSM, the climate of cheating also stems from the way cheating is viewed by the much of the student body. However, while some students cheat to take the easy way out, for many it is only an issue of time. "Kids are so involved in so many extracurriculars; [sometimes] they didn't have time to complete the assignment. Other times, it's too hard for kids to say no to their friends," Sister Jeanne said.
"I think we have a lot of students who have overloaded plates, who are good intentioned and want to do well, and there has been maybe a growing ability to justify, cutting corners, doing things that really are cheating, despite their justifications: sharing worksheets and copying, passing down past assignments, copying and pasting," said Ms. Frank.
While some students have a hard time saying no when peers ask to copy work, for others, it's saying yes that's hard. "I would always offer my help to help someone understand an assignment; however, I have a hard time giving someone the answers, even if it's a busywork assignment…In the end it's just hurts the person who cheats because he or she is not taking advantage of his or her learning and not furthering his or her academic experience," junior Anna McGinn said.
Like McGinn, some at BSM view cheating as a purely ethical dilemma, an issue of a student's character and morality. "I think cheating really comes down to integrity in your work and taking pride in your work, and I feel like cheating takes away from that, so I don't cheat, because I take pride in my work. I feel like cheating is undermining hard work," junior Julia Krieger said.
"When you write your name at the top of the paper, you're still saying that this is my work. Even if it is busywork, even if you just think it's busy work, it's still you saying this is my work, this is who I am. And if that's a lie, that's a lie, whether it's a paper you plagiarize, whether it's cheating on a final exam, something big, or whether it's a little five point assignment. It's the same lie," Mr. Pedersen said.
While cheating on a busywork assignment may not seem as impactful as cheating on a test, it still has effects. "I do think that if this is the culture we've established, what's the point of all this? If you're doing it to get to college, then what's the point of college? A job? If you're cheating a whole year, what does that say about you? You're willing to be dishonest," said Ms. Frank.